May i introduce myself and my family, my name is Johannes Franciscus Kok, born in Rotterdam the Netherlands on 31 december 1950 and still a (flying) dutchman. Because we live in Italy my name was quickly transformed , first Giovanni Francesco then Gianfranco until it became just Franco or Franz for the German speaking friends.
I am married with Ferruccia Galvagni who is the best housewife on earth ;-). We live in a town called Mezzolombardo in the northern part of Italy called Trentino Alto Adige.


I have made some documentation of my hobby's, teletype equipment as teleprinters, rtty demodulators and similar equipment, I created a page with thumbnails of the available documents for download.
All the downloads are free, just register. Most of the files are made to print directly front to rear to create easy a printed (Hardcopy) of the document. If you find some errors or other issues that should be corrected, please let me know.
Not all of the documents are scanned and published, so if you are interested in some item which is not available yet for download, just write me at the address here below, indicating the number and title next to the thumbnail and your question about it.
I am sure we will find a solution.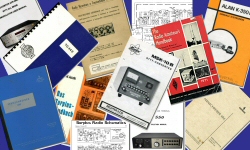 This email address is being protected from spambots. You need JavaScript enabled to view it.


Visitors since 2013